World-Class Press Technology
Press Technology
(plastic processing technology)
that can quickly form complex and precise shapes
Press forming technology.
There are three main press technologies: blanking, bending, and forging. A wide range of knowledge and experience is required to implement these technologies, including the characteristics of material and die mechanisms. FCC, fully using the know-how cultivated through precision equipment manufacturing, owns technology that enables forming in a single shot and can contribute to lighter weight, process saving (near-net-shape), and cost reductions.
Predictive Analysis for efficient development
We have experience and the various threshold values for forming, and die stress to maximize the process while identifying any potential for defects, shortening the overall development timeline
Intial design studies performed with Mass Production in mind, including stress and strain date and rapid CAE analysis streamlining the development process.
Die Design Capability
Based on high-precision CAE analysis, products with complex shapes (motions) can be exactly reproduced in a single shot.
Since we perform from design to manufacturing of 3D dies, the process and cost are reduced through direct transfer to the processing program after a 3D model is designed.
Expedited Trials and Events
Our adjustable double-action presses and business know-how allow optimized condition settings and prototyping which fullfill product requirements.
Analysis and Evaluation
Pursuit of the true cause of defects and prompt response through material analysis (composition, microstructure, mechanical properties) and product evaluation (accuracy, strength).
Analysis and evaluation data accumulated over an extended period of time are fed back into product and press manufacturing, playing a key role in quality improvement.
Mechanical property analysis (tensile test appearance)
Steel cross-sectional structure Evaluation
Surface condition analysis by SEM
Element analysis by EDS
Overseas Production
FCC, which has a global presence with locations in Asia, North America, and China, possesses the same production facilities and development technologies as we do in Japan in our overseas plants, which makes it possible to supply high-quality products to the local supply chain in a timely manner.
FAD Method (sheet steel drawing technology)
FCC's unique press technology, the FAD (FCC Advanced Drawing) method, enables a variety of forming with a single stroke of the press.
Streamlining production processes, mass production costs and cycle time will be significantly reduced for products, including clutch drums.
We also possess double-action forming technology to realize more complex and precise processing.
Features / Advantages
Increased Productivity by Reducing the Number of Processes
To form sophisticated tooth profiles that require multiple processes, the FAD process completes the process in a single pressing. It reduces the cycle time and realizes cost reductions through reduced processing loads.
Offering Best Product Shapes
FCC has cultivated its expertise in press technology through more than 30 years of research and development.
Based on data accumulated through more than 10 years of experience in CAE analysis technology, we propose optimal lightweight, high-precision, and space-efficient product shapes.
Ensured Strength and Durability for Peace of Mind and Safety
Using the FAD process products that require different thicknesses for different zones can be formed in one process. This creates high quality processing that combines accuracy and speed for automotive parts. This includes clutch drums, which require high strength and durability.
Supporting Mass Production with expedited launch capabilities
Products for a variety of applications are processable using a general-purpose mechanical press.
Space-saving and versatile
Comparison of GROB Rolling and FAD Method
Greatly Contributing to Cost Reduction by Adopting FAD Method
FAD Method
GROB Rolling Method
(general tooth profile forming method)
Number of Processing Cycles
1 (single stroke)
5
Forming Time
7 seconds
40 seconds
GROB rolling method was regarded as the mainstream in the processing working of tooth profile parts.
The tooth profile of product is processed by two roller-shaped press dies.
Solution to such issues as the following:
Reduce product processing cost
Produce high quality products which are currently produced locally, at overseas locations
Efficiently produce durable parts
Offer solutions for products that meet customer needs
Other Technologies Owned
Double-Action Forming Technology

Transition to double motion in a single action, high load gas cushion in the die to reproduce a double motion
Cold Forging Spline Forming

Spline forming by unique cold forging method
Sheet Metal Forming Technology

Press finish without heating
Near Net Shape

Minimized processing allowance
Barring Technology

Prevention of cracking by the multistage forming method
Forming Technology for Reduced Processing

Elimination of edge cutting process using upset forging
Progressive Technology

Bridge shape optimization / Reduced processing by blank processing breakdown
Blanking Technology

Establishment of high shear range in high strength steel plates by internal/external shaving process technology
Blanking Technology

Responding to motorized products (separators / motor cores)
Hollow Rotor Shaft for Four-Wheel Vehicles
Products with high design flexibility that cannot be imitated by others,
using the high-precision processing technology and joining technology cultivated through clutch manufacturing.
Motor Cores / Laminated Cores for Drives
Mass Production Dies: Co-Processing, Rotated Lamination, Split Stators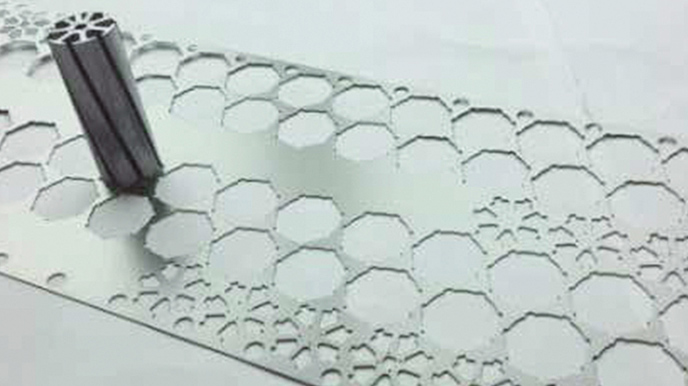 Multiple Blanking Laminated Cores
Layout with Improved Material Yield